Local Products of Karpathos
27 July 2020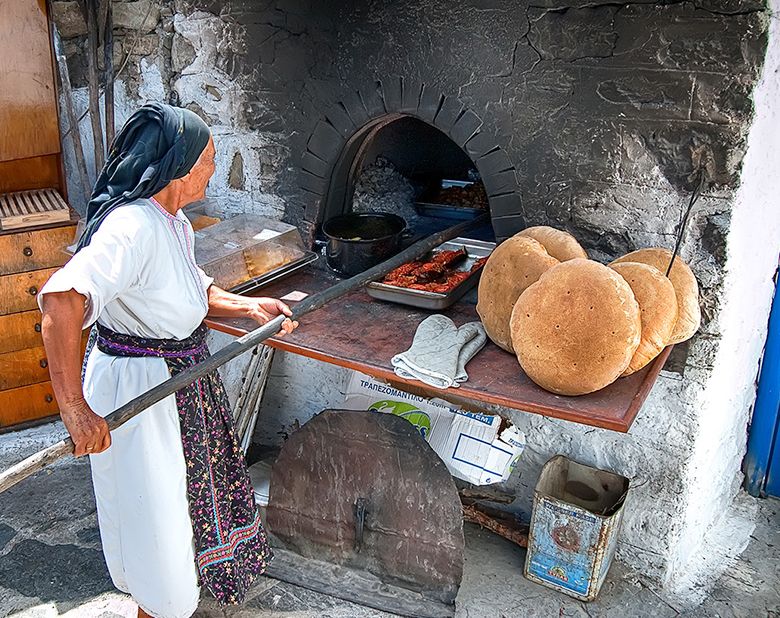 Karpathos has long been famous for its local produce. Grapes, olive oil, cheese, honey, quinces, citrus fruit and top quality wine with rich taste and distinctive aroma will surely become your absolute favorites during your stay on the island.
The local cuisine is definitely special. The well-known handmade makarounes (homemade pasta served with onions and cheese), sisamomelo (sweets from sesame and honey), trigona (triangles), xerotigana (fried dough strips), sardines (the famous salted menoula fish), capers, rock samphire, salted and kolymbites (dipped in oil) small olives, kolokithopoulia (zucchini flowers stuffed with rice), "kopeles" (spinach pockets), stuffed lamb with groats (roasted for about 20 hours in a traditional wood oven), pseudomakarouna (small bites of stale bread boiled in salted water until soft), cheese (the most common being soft manouli, armyrotyri [hard salty cheese for spaghetti], and meriari), tourtes (pies filled with locally made sitaka or mizithra cheese), baklava, pies (cabbage pies, onion pies, and zimpilia [raisin pie]), fried or stew parrotfish, agriadia (squid), are all typical examples of how competent a Karpathian housewife may be.
It is worth mentioning the wide variety of baked goods available in Karpathos, of any kind and flavor imaginable: spicy, onion bread, crispy biscuits with mastic, cumin and white sesame. A must for Christmas is the "Christopsomo" (home-style yeast bread with cinnamon, mastic, and cloves, sprinkled with sesame seeds). At Easter, women knead the Christmas bread, the typical "pouloi" (thin salty bread rolls in the shape of number 8) with a red egg on one end.
As for folk art items, you can find hand-painted plates, "stivania" (traditional high leather boots), woven fabrics and copper utensils. In Olympus, there are still traditional shoemakers who make "stivania" and slippers with traditional patterns, as well as traditional wool processing weaving workshops.