Customs & Practices of Karpathos
31 July 2020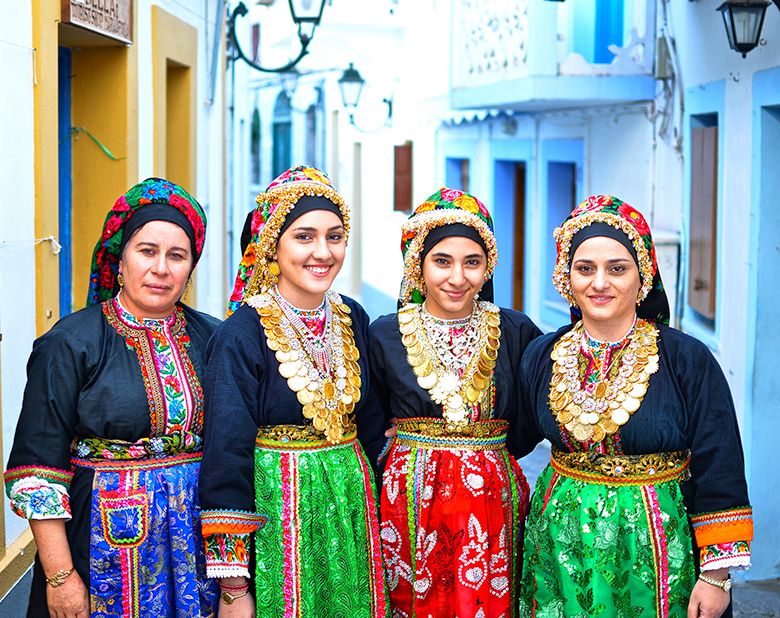 In recent years, tourism in Karpathos has been steadily increasing, but has had no influence whatsoever on the customs and practices of the island. On the contrary, the islanders have strengthened their faith and shown a strong commitment to their customs and traditions. Every chance they get, in festivities or festivals they promote their traditions. Not only do they enjoy themselves but they also invite visitors to participate and have an unforgettable experience.
The traditional Karpathian festivity ("kathisto glenti") holds a special place in the life of the island. During the feast, the islanders have the opportunity to present their unique talent in folk songs and rhymes composed and sang at the same time ("mantinades"), expressing their feelings - joy or pain depending on the occasion. They also dance local traditional dances, such as "Siganos", "Gonatistos", "Pano Choros", "Sousta", "Foumistos" (only in weddings), "Zervos", "Kefallonitika", "Antipatitis", "Arkistis". Inseparable part of such festivities are the local traditional musical instruments such as the "lyra" (lyre), "laouto" (lute), "tsambouna" (bagpipe) and the "violi" (violin). Visitors can attend a "glenti" in festivals and social events (baptisms, weddings, and name days).
Many customs of Karpathos are rooted in antiquity, but what still characterizes the island is the female costume (an every-day and a festive one) of Olympus, the "kavai" (black overcoat) and the "sakofoustano" (tunic). Remnants of old women's costume – tsemberi, tehremi, fota -, are usually worn by older women in Mesochori and especially in Spoa.
There are different outfits for younger girls and older women. In the past, men also wore their traditional attire, which included blue breeches and a blue vest. These costumes vary slightly from village to village.
A custom found only in Karpathos is "efta" (seven). This is actually a feast celebrated seven days after the birth of a child. Relatives and friends go to the house of the newborn child make a crib, sing lullabies and wish the baby good luck and a happy life. Sweets and food is served and a feast follows.